ABOUT US
Enjoy living in a positive atmosphere with a friendly staff who enjoy their job and look forward to seeing you every day. Here, you will have access to onsite activities that can enrich your mind and spirit. Enjoy nutritious meals in a family-like atmosphere.
We are an independent living facility, specializing in excellent, loving attention for our guests in a friendly, family-oriented environment. All members of our staff are passionate about their work and see our guests as family members who deserve love, respect, and dignity. We are owned and managed by the administrator, ensuring the highest quality of care.
Services and Amenities
Contact us today to consult with one of our friendly, experienced staff members to learn how we can best help you or your family member.
Enjoy our friendly environment
Our carefully selected staff members take pride in engaging and enriching the life, health, and spirit of every resident we serve.
We're the perfect size facility. We are large enough to allow residents to meet compatible friends yet small enough to allow us to know our residents and meet their individual needs.
Our warm and caring staff members are ready to take the time to answer any questions you may have regarding our facility and the services we offer.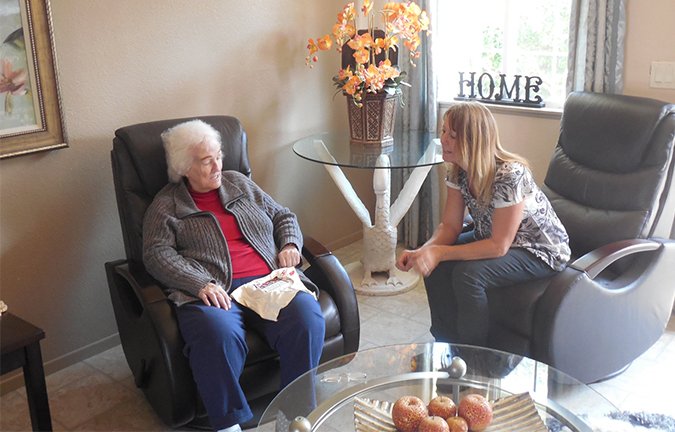 Feel right at home
We make you or your loved one feel right at home the moment you walk through our doors.
Take advantage of our beautiful indoor and outdoor common areas to relax and enjoy the company of other residents and staff.
We also offer a variety of wonderful activities for our residents to enjoy.
Contact us today for more information or to schedule an appointment. We're ready to help you if you are just beginning your search or ready to move into your new home.
Comfortable Living At An Affordable Price
Quiet Waters Independent Living is located in Redding, just off Bechelli Lane, with convenient access to our surrounding community.
We offer single bedrooms and two-room suites all in a one-story facility. Each unit has both an interior door and an exterior door with a private outdoor seating area. We're a family-like setting with a beautifully decorated living and dining room and comfortable outdoor areas.
You are invited to visit us. Call today with any questions or to schedule a tour with Quiet Waters, Independent Living.
© Copyright 2017 | All rights reserved.